Did You Know We Now Offer Boarding?
Welcome to the "Pierce Hotel for Schnoodles!" We love to have Pierce Schnoodles stay with us…not only do we get to see our "alumni," it gives us a chance to get to know their unique personalities a little better.
Our boarding fee is $40/night for minis and $55/night for giants. We accept cash or check, payable when you pick up your baby.
Your puppy is expected to be house broken & crate trained when they board. With our many doggies we feed in the crates and they sleep in the crates so your puppy is expected to be crate trained when boarding with us.
Please note: We don't board any dogs except Pierce Schnoodles.
We treat each dog like one of our own—that means that they stay right in our house with us. Your Schnoodle will get lots of playtime outside, one-on-one attention, and time to hang with any current litters of pups. Dogs are very social animals, and we allow them to spend time together and enjoy each other. At night, crates are kept right in our living room. Your pet is truly part of our family while you are away! When you board your Schnoodle with us, please bring:
Crate. We set up your pet's crate in our family's living room. Your pet will be very comfy!
Towels, pad, or blankie for the crate.
Food. Bring whatever you are feeding your Schnoodle so that he/she can stay on the same diet.
Feeding bowl, since dogs enjoy the consistency of familiarity.
Special treats or toys they like to sleep and play with. Of course, we have baskets of toys, but again dogs like familiar belongings when they're away from home.
Collar and leash. We generally only let the dogs out in our fenced-in back yard. But, in the event of a walk or car trip, a collar and leash is good to have.
Name and phone number of your veterinarian. We've never had to call a vet yet, and in the event of an emergency we would use our vet here in Pittsboro, but it's good to have access to your pet's records should we need them.
Please have your vet email your pet's current shot records to myself (remember, bordatella for kennel cough is required prior to boarding); the email address is renee@pierceschnoodles.com.
Your cell phone number and/or contact numbers. Feel free to call or email us while your baby is boarding with us for an update. Generally, it only takes a few minutes after mom/dad leave for a dog to begin acting like, "Wow! Let's play and have fun!"
Anything else that is special for your Schnoodle, such as vitamins or medicine. Don't forget to include clear instructions.
Here are some snapshots of recent "guests" at the Pierce Hotel: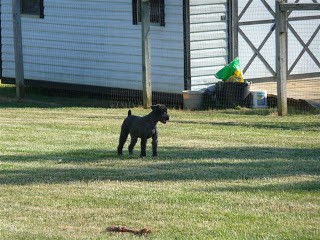 Max plays outside while staying with us.
Sleepytime. A boarding Schnoodle snuggles with one of of our Pierce Schnoodle puppies.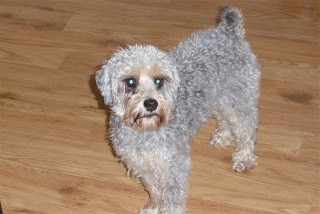 Sasha boarding with us.