August 2021 – Renee said goodbye to sweet Isaac.  He will be staying in NC in a great home, room to run and roam.  He gets all the time, love and attention which he will be thrilled with! Checking in with the new family a couple days later, they are already inseparable. Perfect fit.  He will be missed
April 2021
May 2020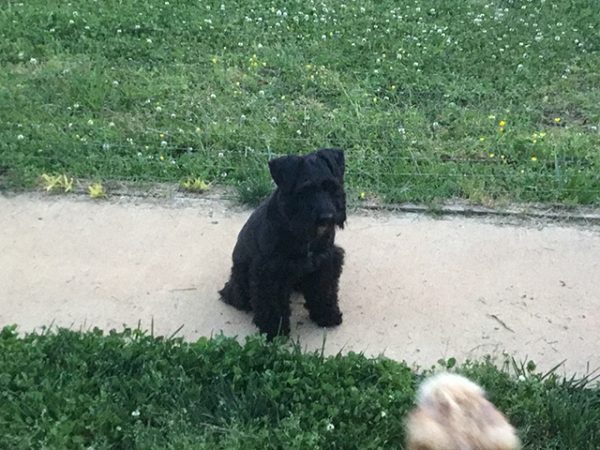 September 2019 – So handsome after a groom! Best looking schnauzer!
April 2018 – Pictures do not do him justice! This is Isaac our mini pure schnauzer that will make Pure mini schnauzers this year with selected girls. He is super shiny black solid as a rock, super sweet and loving. One of the best looking mini schnauzer's Renee has seen!
December 2017 – We purchased this awesome handsome pup who is a pure black mini schnauzer. When he becomes of age we will produce a litter or 2 of pure schnauzers, keep the girls as future schnoodle moms and sell the little boy babies. Isaac has an exceptional personality, super thick coat and is an excellent pup. Renee loves him!! Isaac enjoying a day at the office.
9/24/2017 Isaac's first boat ride
9/1/2017 Isaac went to VA with us and Renee's sister Cindy baby sat Isaac so Bill & Renee could have a night of escape! He is a little bundle of joy and loves toys, all the attention. Also, office time!
8/21/2017 Isaac with his eclipse glasses on.
Meet Isaac! This is a gorgeous akc black mini schnauzer male Renee's newest baby! Isaac will grow up and breed with some of our females to produce pure schnauzers. We then keep the girls as future schnoodle mama's and keep our lines going. We sell the male schnauzer pups. He has totally soft awesome fur! He is spoiled already. He is 9 weeks old. Crate trained and working on housebreaking. He goes to the office with Renee and is learning the ropes! He has an awesome personality- shares his thoughts and opinions with us and has a loud yawn! Very funny! Very loving and sweet. A real sweetie! So cute u just can't love him!!❤