Meet Kody!
He'll be joining the Hinshaw family in NC. Newly retired this little guy is the perfect match:) Calm, sweet and well adjusted he is going to love the one on one attention, time and love he will receive with his new family.  The family loves to walk, hike, fish and boat. So Kody will join in the fun.
Sully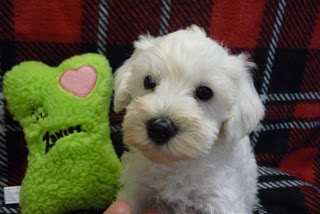 the middle man – He is mid size in the litter.  Very playful and loving – great personality!
He is going to MD to join the Kazam family and his name is Sullenberger "Sully" Kazam.  He will be getting 100% of the attention in the family as the 'only child'.  Running is a family sport so I am sure Sully will join in.  He is sure to get spoiled and totally loved with this family.
Moose
largest male – He is a favorite in the litter. Docile, super sweet, great fur and a wonderful fat nose – what a cutie pie!!!
His name is Moose and he will be going to CT to his forever home with the Tucker-Lloyd family. Family is 2 daughters and a goldfish:)
The love walks, outside time and games and are looking forward to Moose joining them in all the activities.
Madeline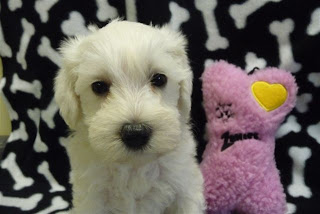 The 1st white female will become the newest member of the Blemker family from VA. They own Tillie a 6 year old Pierce Schnoodle. She is excited to be getting a long awaited little sis to play with. This little girl will have her big sis show her the ropes and they will be best of friends in no time.
Charbonneau Pup
The 2nd white female will be joining the Charbonneau family in NC. 2 kids (boy and girl) are very excited along with the rest of the family about getting a pup.  They love to camp, travel and play games – this little girl will love the activity.
Charlotte "Charley"
 The 2nd black & silver girl is becoming a member of the Mesaros family in GA. This family blessed their parents with a Pierce Schnoodle last year (Pepper McCormick) and she is the best so they knew they had to have one of their own! The family is 3 girls and 1 boy and they love outdoor and indoor playing and cuddling. This little girl will never want for someone to hold her or play with her.
Moose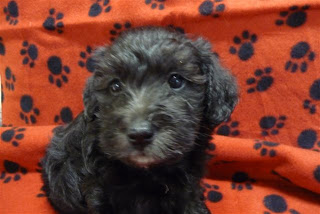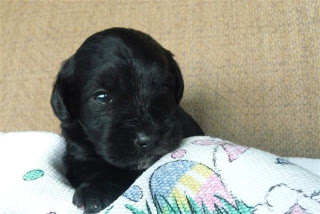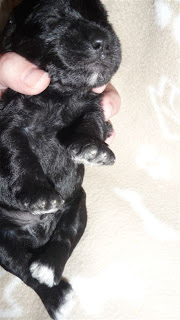 The Mulvey family from NC is adding Bianca's little black boy with the white feet to their family.  This family likes a lot of indoor activities and lots of time playing and snuggling. This little boy will be happy with that – lots of attention!
Perrin Pup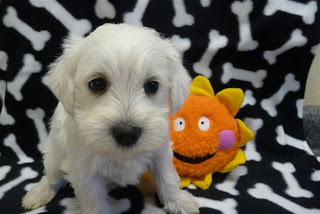 The 3rd white female will be going home with to the Perrin family in RI.  The family lives in the country and likes to hike and bike. So this little girl will love to be part of the fun.
Romeo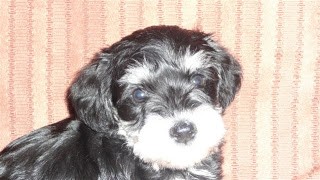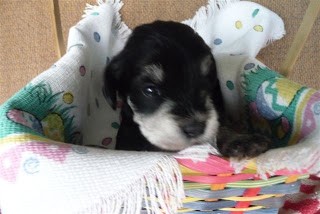 Romeo decided to beat the Easter bunny into the basket – any eggs in here?  I would like mine scrambled with cheese!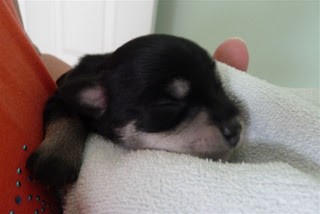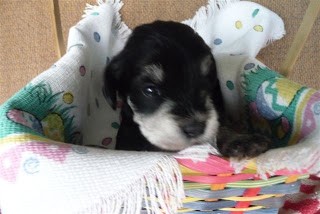 Update
He is going to the Tefft family in CT.  They are retired and plan to give Romeo all the attention – he will love that!!! Camping, hanging out and visiting family this will be a great home for Romeo.
See more pictures of Romeo here.
10 new pups born on Monday the 12th. A record 10 puppies!!
Bianca is such a wonderful mom!!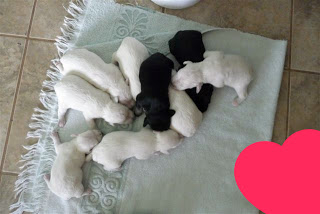 The pile is growing – all are doing super!  Such loving, sweet pups!!