Hi Renee,
Mark and i were admiring the two little Bianca's fellows you have on your site. So beautiful!
Audrey is doing great. She is such a delight and she makes everyone in the house feel loved. Bailey was diagnosed with a very large tumor between his lungs and Audrey has been loving him through his treatment. When we bring him home from the hospital she is so excited to see him, she barges past us and covers him with kisses. We also adopted a little rescue Maltipoo named Chloe and she and Audrey are best, best friends. They do everything together. When Bailey first growled at Chloe, Audrey stepped between them and kissed him back into complacence. We call her our diplomat. Now everyone gets along beautifully.
I've attached some photos. Just thought you should know how extraordinary she is. By the way, Dr. Marin at our vet met Audrey and, I think, adopted Fonzy from you.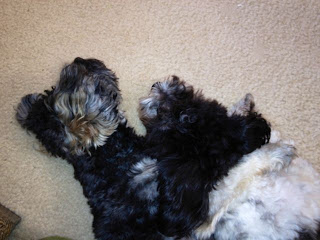 Best,
Cason Lynley