ADOPTED ::
This little guy is going to the Baker family in NC.  His name is Griswald – will either be called Grizzy or Waldo.  The Baker family loves to camp and hike and have a mountain house so Griswald will be able to run and smell the mountain air.  This little guy is the baby  – so he will be loved and spoiled!
This adorable mini schnoodle boy is going to the Cote family of NC.  With the kids grown a new baby is a great addition! They love to walk, play games, travel by car and lots of home activities.  This little guy will love all the attention and activity!
Yellow Collar – Little girl sold to the Mattera family in NY. The family is very excited about this beautiful little Brittany and she will get lots of attention. The family loves walks and visits to the beach and parks and camping. This little one will become a member of the family!
Pink Collar – 2nd little girl is sold to the Osborne family in NC. The young lady who will be the new 'master' is already over the top excited waiting for her new puppy! The pups name is Lily. The family loves the beach, family time together and hanging out. This one will hang out with them too!
The little boy that has exceptional markings with a very large white blaze is sold to the Carter-Kent family. Renee has him tagged and an 'extra handsome boy'. The colorings are remarkable and this little guy will be so handsome when he sits and shows off his markings when grown. His name is Buddy Rex.
PUPPIES ::
All cleaned up, tired from photos, mom is back, time to eat and rest.  Such a life!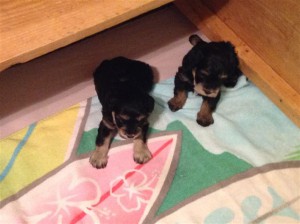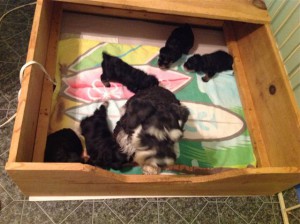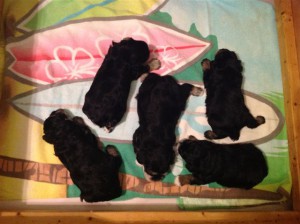 Sitting on the floor with the babies, doing photos, clipping toe nails and loving on the babies -Jacob and Delilah are close by while mom Sasha is outside for a break.  Such puppy fun!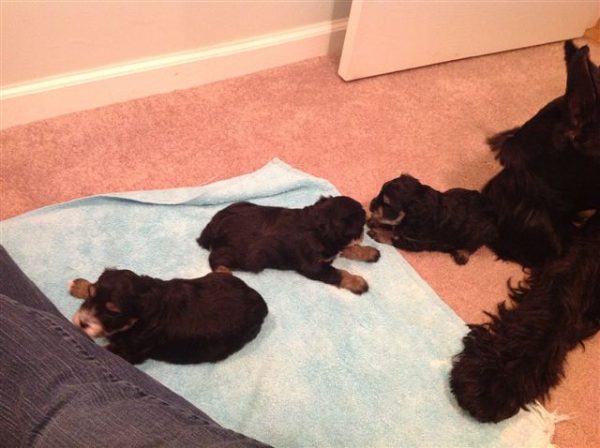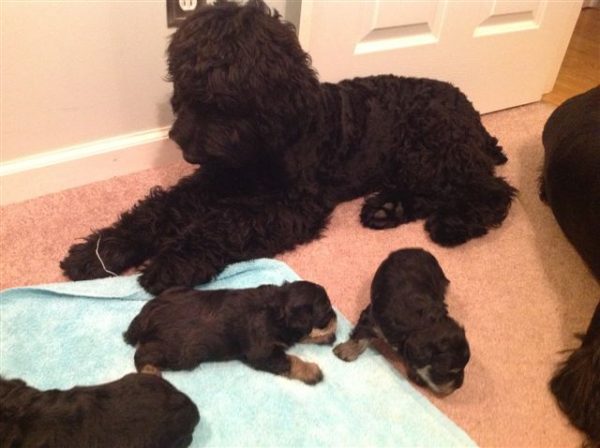 Sasha's mini schnoodle puppies were born this week, Wednesday October 9th. She had 5 puppies, two girls and 3 boys. All beautifully marked with colorings from both parents.