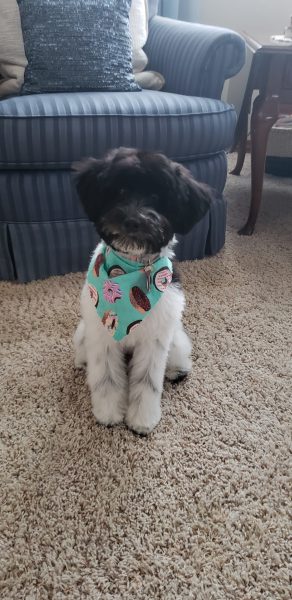 I have been wanting to write you and let you know how Schatzi is doing!
First of all, your advice for flying home worked like a dream! She was so quiet on the plane, slept all the way. We tried to get her to potty in the family bathroom on both ends of the flight, but she wouldn't have it. We also had to catch a shuttle with another hour ride home once we arrived in Denver. She held herself for over 7 hours, even though she had ample chances to let it out! We have found that to be her normal, though, as I have only had to get up two times with her at night since the middle of October! She has quite the bladder!!
She is so adorable and so smart, and potty training is going so well! My family all loves her, especially the grandkids! She has so much personality and is such a people dog. She does love to use her teeth, so I am looking forward to her adult teeth coming in!
Thanks so much for allowing us to adopt one of your babies. She brings so much joy to my life, especially with Lyle's travel schedule.
Pam