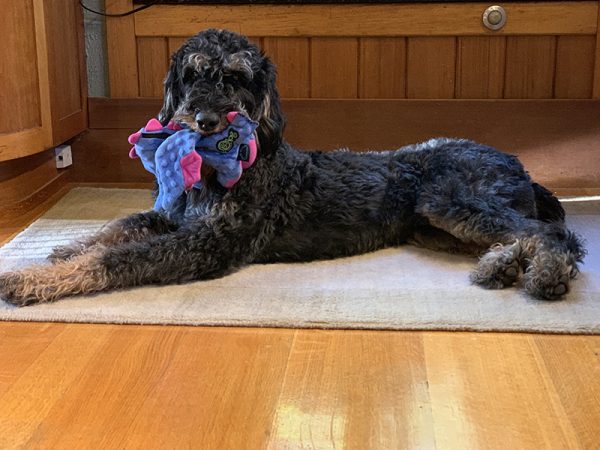 Hi Renee,
It is hard to believe that Petey is two years old today. It seems like yesterday he was just a little pup and yet he is so much a part of our life that it seems like he has been with us longer. He truly is everything you say your dogs are.
First off, he is a beautiful dog. He is well proportioned, has a very nice coat, and we love his interesting colors. He seems to have a lot of physical characteristics from Rachel.
Petey is very focused on us and loves to please. He loves to snuggle, but fortunately has given up on trying to be a lap dog. He loves going for walks and playing with us in the backyard. He loves car rides and we take him with us everywhere we can — people are drawn to him and he loves the attention. He is wicked smart but often hides it with his goofiness. I know that he wouldn't hurt a fly, but when we are home alone and someone comes up the driveway, Petey puts on his "big dog voice", which I am sure makes people think twice. I have never had a dog who stops to watch cars go by or tracks airplanes across the sky. He loves playing with his toys. He still has the blue dragon you gave him. When he isn't shaking and tossing it, he carries it around and even takes it to bed.
We are very lucky to have Petey and I thank you and Bill for that. He brings us so much love, happiness, laughter, and fun.
Susan Chasin