Hi Renee,
I thought you might want to know that Freddie-Ollie is now a cover boy – featured on this coming issue of Hunting & Fishing Collectibles Magazine, picture attached.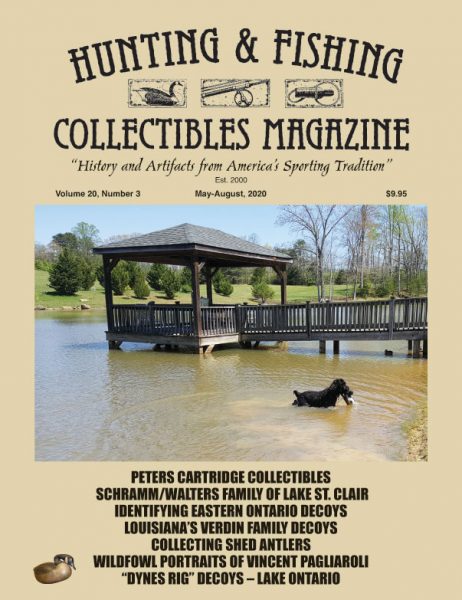 He is a swimming/retrieving maniac. He can't get enough of water, any water, bath tub, hose, and most definitely he loves "his"pond. He also loves to retrieve, chase balls, and just cool it on the back deck. He has a mind of his own and "argues" with me when he disagrees with me. He is my dog, only secondarily wanting his Dad. If I leave a room he either follows me or waits looking for my return. He loves and gets along with other dogs
We discovered he prefers Freddie-Ollie. My guess is that he got used to being the "red" collar puppy and so Fred sounds more like him to him.
He knows come, sit, stay, bed, lay-down. He's not quite so good with "off" (he's so tall he can get anything off kitchen counters). He's a really big boy, weighing in at 50 pounds now -without an ounce of fat. I have to remind myself he is just a puppy because he's bigger that our last dog Maggie already (she was a Springer Spaniel). He goes to puppy boot camp in August. We found a wonderful positive-reinforcing trainer (he is a regional Highway Patrol Trainer of all of their dogs). Freddie-Ollie will stay with him for two weeks – then back home with us. Then after another six months he'll go back to him for Companion Dog training.
When this new issue is out – I'll send you a copy of of both magazines – the one introducing Freddie-Ollie and the new one with the cover picture.
We also included a web address and credited Pierce's Schnoodles with our little darling in Stan's publisher's column from March.
Anyway, our best to you and the folks at Pierce's Schnoodles.
Deb Van Etten