A new Pierce Schnoodle record!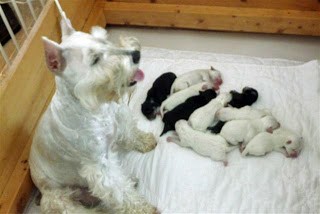 Bianca sets a new record for number of pups in a litter – 10!
Yes, 10 new pups born on Monday the 12th. It was early in the am that she started delivery. Renee was attentive through most of the night but Bianca did a perfect job. At 8 she thought that was it. After a short nap, counted again and 9. She went to the office for about an hour and came about and counted, recounted and recounted – and there were a record 10 puppies!! Wow!!
All are doing wonderfully! There are 6 handsome boys & 4 beautiful girls.
The 1st white female will become the newest member of the Blemker family from VA. They own Tillie a 6 year old Pierce Schnoodle.  She is excited to be getting a long awaited little sis to play with.  This little girl will have her big sis show her the ropes and they will be best of friends in no time.
The 2nd black & silver girl is becoming a member of the Mesaros family in GA.  This family blessed their parents with a Pierce Schnoodle last year (Pepper McCormick) and she is the best so they knew they had to have one of their own!  The family is 3 girls and 1 boy and they love outdoor and indoor playing and cuddling.  This little girl will never want for someone to hold her or play with her.
The 1st black & silver boy – Pick of the litter of boys will become Renee's personal schnoodle.  He is black and silver and is basically a twin to the Mesaros female pup.  He is a total cutie – watch him grow with us!  Suggestions on name to help make the decision?
2 girls & 5 boys still available for adoption!