A basket full of Easter Puppies!
Rikka is a very attentive & loving mom.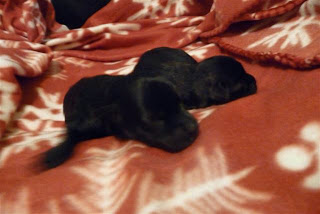 Two beautiful sisters.
And, four handsome brothers.
Rikka's pups were born Sunday evening March 4th! She has 6 black beauties! 2 girls – 4 boys. There is some white markings on feet, chest etc. Hoping to see some chocolate/apricot colorings come out as they grow. All pups are doing well. Tails docked on March 8th at initial Vet check up and all reports are great!
The 2 girls are spoken for:
The 1st girl will go to the O'Neill family which have patiently been waiting for a Pierce Schnoodle.  They live in NY and the kids (girl & boy) are so excited about this new addition.  Summers are spent at the lake, lots of walking and playing sports so this pup will fit right into the fun.
The 2nd girl will go to a family in Raleigh, NC.  The 2 boys are very excited and are counting the days until they bring the new puppy home.  They like sports and the beach so this little girl will be one of the family.
The 1st boy will become a member of the Capurso family in MA. With the kids grown this will be the new little one in the house.  They love to walk, bike, gardening, crafts and photography.  This little boy will be spoiled quickly and become the new 'child' in no time!
That leaves 3 boys of Rikka's currently available.