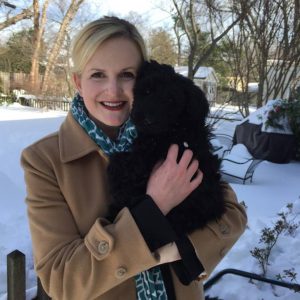 Her name is Eleanor "Elle" Hanna and she now weighs about 32lbs.  She has been a wonderful addition to our family and although it took Winston (9 year old mini-schnauzer) and Estella (13 year old orange tabby) a month or so to get used to her, they now love playing in the yard and napping with her.
Elle has lots of energy and is so sweet and loyal. She is becoming quite the ball player and is very intrigued with the water hose. She loves riding in the car and is always up for an adventure.
We love our Giant Schnoodle!
Jessica & Mike Hanna