All of Syrah's puppies have been sold – thank you!
SOLD – Aqua Green Collar – This girl is one of the smaller ones. Very sweet and super alert. She is a beauty!
SOLD – Purple Collar – This is baby girl! So sweet. Smallest in litter. She is a cutie!
SOLD – Brown Collar – Male of Syrah's pups is sold to the Dougherty family in MD. His name is Griffin. This fella will enjoy alot of attention and being the 'kid' in the house. He will get to go to the beach and walking every day. He also gets to go to work too! He will show everyone just how super smart he is!
SOLD – Yellow Collar – female brindle. This awesome large girl is the new baby of the Whitley family in NC. Her name is Gracie. With lots of room to road, lots of time at home and the lake, this girl will have a great time.
SOLD – Pink Collar – Georgia Bel going to the Stuek family in NJ. The family is related to another family locally that owns a mini Pierce Schnoodle. With property to run and very excited kids this girl will have fun! They love all kinds of active sports and family time.
SOLD – Burgundy Collar – Big boy Burgundy Collar is going to be going home to the Lawrence family in MA. His name is Ozzie. Being empty nesters and not other fur babies, this guy will get all the attention and be awesome! They love the water, boating and hiking. Ozzie will have his own life preserver too.
SOLD – Rust Collar – This handsome fella will be making his forever home with the Gude family in GA, his name is Ace. This guy will help dad out with 3 young ladies in the house. Everyone is excited and looking forward to their new pup, training and playing an array of games and activities. He will love all of it with his new humans!
SOLD – Peach Collar – This precious female is the selection of the Boyd family in NC. Name is Ruthie Hosanna. She is shiny black and very sweet. The Boyd family of 4 is very excited about there new addition. They are an active outdoors family who like to play, walk and run. Ruthie will love it all!
SOLD – White Collar – Male is the selection of the Griffin family from GA. His name is Sherman. He will be the new baby in the house. Horses, cattle dog, chickens and alpacas along with other make up the farm. The family loves the farm life, swimming, riding in the truck and camping. Sherman will love all the company and the farm life too I am sure!
SOLD – Red Collar – Female has been selected by the Marterre family of NC as the newest member of their family, her name is Lucia. The other doggie in the family is patiently waiting for a new play mate. The family loves walking, gardening and movies. She will snuggle up and fit right in!
At the vet.
In case I get thirsty I don't have far to go!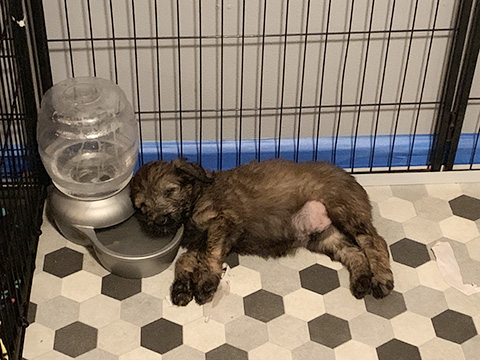 Bath Time
Moved to playpen on sun porch. Room to roam. Enjoying mush! Yum!
Syrah and pups first outside adventure.
Syrah had her babies yesterday! Awesome colorings. All nursing and doing great. Syrah is a wonderful mom. They will be ready mid-October. Wonderful time of year to adopt! Send in your application for a giant baby! Apply to get your giant schnoodle!