Check out these beauties available now! The 3 available pups below have been vet checked, shots and are ready to go. We have already separated into crates and they are doing great, going in their crate, eating in the crate, going outside to potty, know how to sit for a treat and are just super loving. Contact Renee directly if interested these gorgeous pups are ready for their forever homes!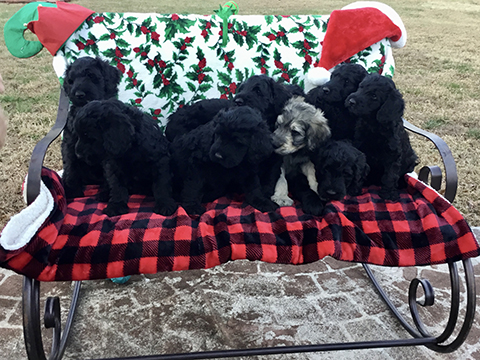 Available – This little guy is red collar he is calm, sweet, very loving.  He was the runt of the litter when young, but he is a nice size and just a good boy.
Available – This little girl is purple collar and a sweetheart! She is so gorgeous! Just a sweetie, loves to be held, good to come and just so soft and cuddly!
Available – This is yellow collar, female. She is a large girl with big paws to grow into.  She loves to run and play and is learning the ball and frisbee. She would be a great one for an avid fast walker or runner. 
This fella is brown collar and has been selected by the Snyder family from CO. This is Samuel, who went home with the Snyder family in CO. He already loves the snow! He will get lots of attention and love. The family loves the outdoors, walks and hikes. Samuel will join right in.
This is George, Light Blue collar (male) who has made his forever home with the Jacobs family in FL. He will have all the time, attention and love he can handle from his new family. They enjoy fishing, hiking and camping. George will fit right in and love it all.
This is dark green collar. This is Malone that has made his forever home with the Robinson family of NC. With 3 kids and a stay at home mom, he will get lots of love and attention. They love to walk, jog, swim and soccer. Hopefully, Malone will get his own soccer ball!
This is Tan collar the gorgeous handsome multi-color pup that has made his forever home with the Arrington family in FL. The family likes beach time, hiking, walks and family time. Name forthcoming.
This is Pink Collar (F) named Ruby that has made her forever home with the York family in NC. She is joining a lab and terrier mix so she will have play buddies and 2 human play friends as well. They like to hike, run, garden and travel. She will love it all!
This is orange collar, female. She is black with a a few white hairs on the chest. She is calm, sweet and loves to be held and loved on.
At the vet!
Finally sunshine and outside play time!
Tabitha is pregnant and due on October 28th. Pups will be ready Christmas/New Years!