Lydia with babies enjoying outside!
SOLD: This handsome boy is tagged as black collar. He is handsome, sweet and easy going. This handsome fella is ready for his forever home. He has been to the vet, he's doing great at going outside. Totally loves outside, people and loving! He is doing great with house training, stairs, crate time and loving! He went home with the Norris family. His name is Augustus! This little guy will be his new side kick. Much fun to have and lots of love to give and get!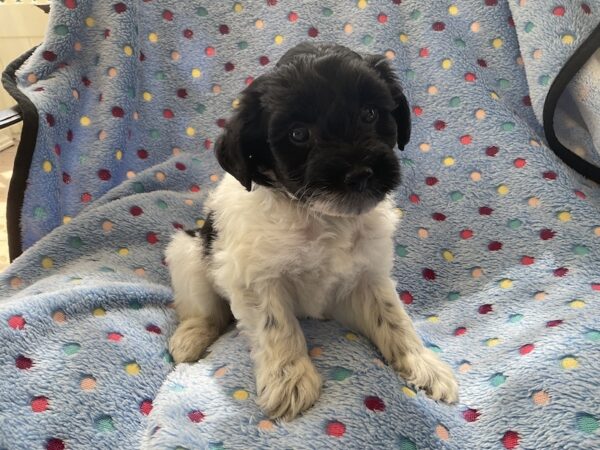 SOLD: This little guy is tagged as brown collar and is a parti pup with a white chin and white whiskers. Such a sweet boy! This guy is soft and snuggly and loving! Handsome brother! He is doing great with house training, stairs, crate time and loving! Oreo went home with the Thompson family of VA.
New baby in the house gets all the love and attention!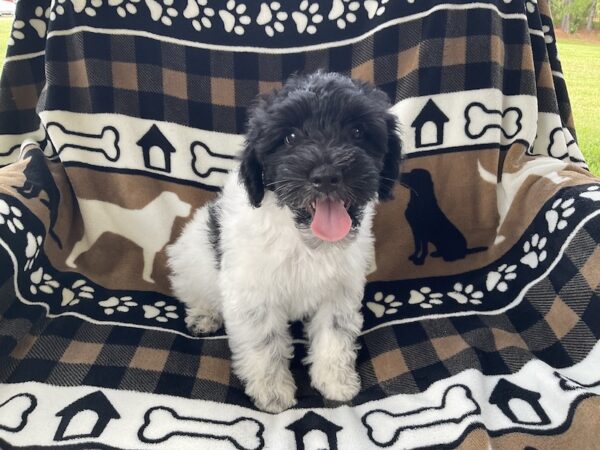 SOLD: This parti baby is tagged as green collar. He has about 1/2 of his face as white. Nice mix of black/white on body. Sweet, handsome boy!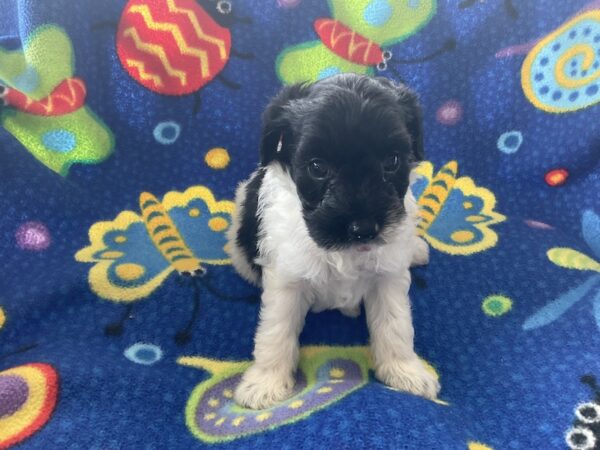 SOLD: This handsome little baby is tagged as grey collar. He is a little fella. All black with a few white hairs on chest. He went home with the Wiggins family of VA, his name is Coltrane!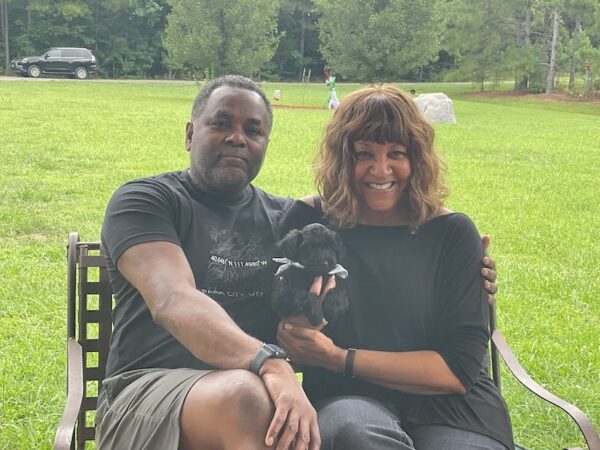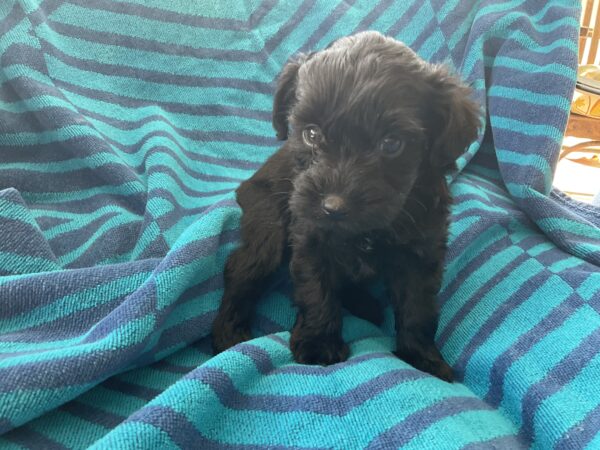 SOLD: This little black sweetie is tagged as purple collar. She is sweet and so very cute! She goes home with the Isaac family of TX. Her name is Cash!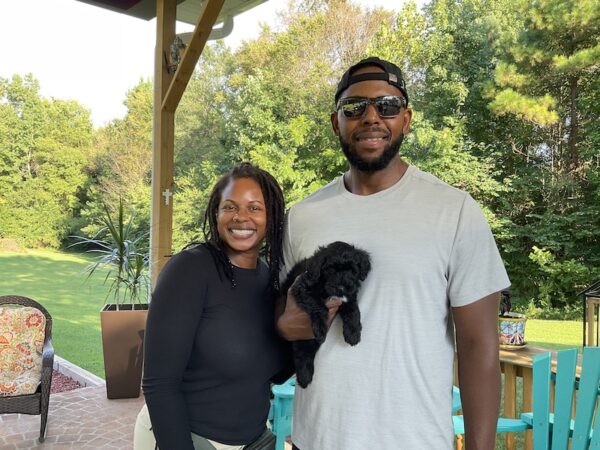 SOLD: This little girl is tagged pink collar. She is sold and going home soon with the Falconetti family in NJ. They are super excited!!
SOLD: This is red collar and will be adopting to the Leder family from VA. Her name is Lilly. She is a cutie pie! This is their 2nd Pierce Schnoodle so she is going home to her big sister. They will become best buds in no time!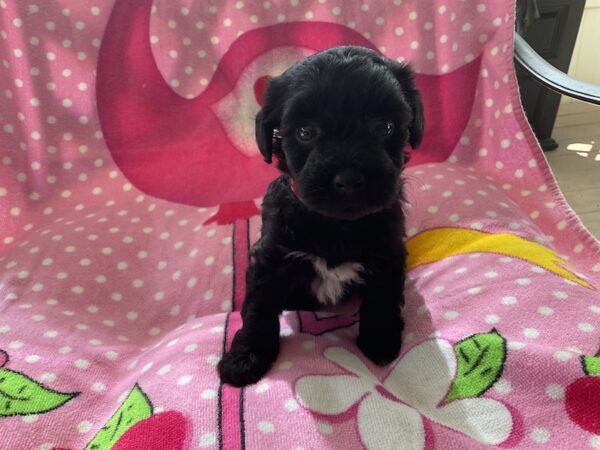 Lydia's 8 pups got some individual pictures taken, more to come soon!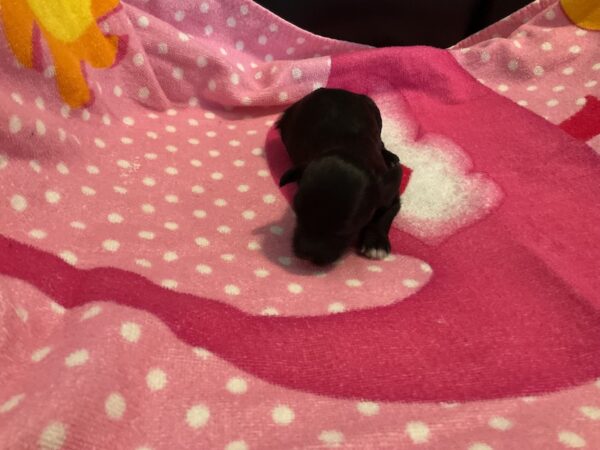 Lydias pups discover mush! Yum!
Off to the vet in the basket. All is well!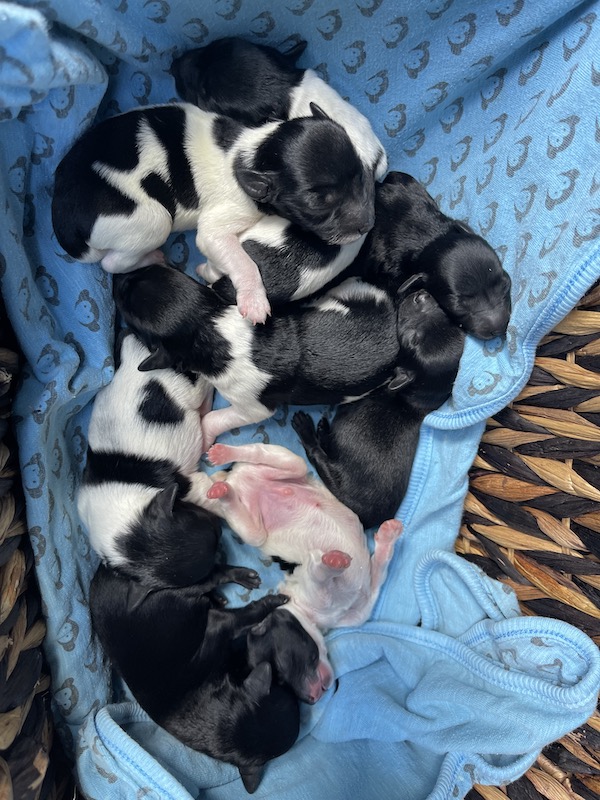 Lydias super coat babies! 8 of them. A mix of parti and black with white blaze. 4 females 4 males! All doing great. Lydia is such a great mom. We have 5 deposits on file already, so we have 3 spots available! Apply today to get a super coat baby of your own!