April 2018 – Princess goes home to her forever home with the Hager family in NC. They have 2 older mini schnauzers so now they have a set of triplets. Once adjusted, Princess will love all the time and attention. The name Pierce and Pierce Schnoodles is in common in the family – so she was the one they wanted!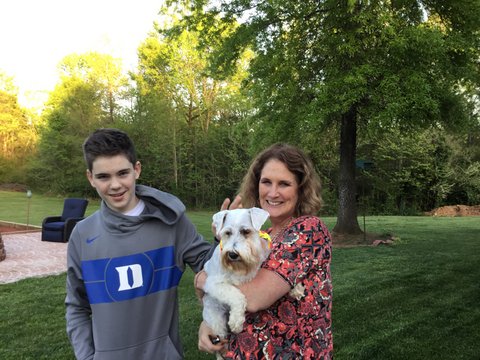 January 2018 – Princess is retiring. Being such a sweet mama and so young at almost 3 it is a very difficult and heart breaking decision we had to make here at Pierce Schnoodles. She has a very difficult time delivering. Her first litter was tough and the 2nd litter was very dangerous and also put her life in danger. We just cannot put her through that again.
So it is with a very heavy heart she will be spayed and a retirement home will be in her near future. She will be 3 on 4/8/18. She is in excellent health, is a quiet, sweet, super gentle doggie. LOVES her crate. Is housebroken, likes treats and chews and just hanging out.
She needs a quiet, loving family, no young children and a fenced yard. She is a homebody. She currently prefers to stay at home, but with time she may want to get out more. She loves to go outside and check out the birds and other exciting things. Once she adjusted to the motorhome and some car trips, she does enjoy it. Just a little nervous until she figures it out.
She is $1250. She will be ready for her new home approximately March-April timeframe. Final appointments have not been made yet.
If you are interested, please email Renee directly at renee@pierceschnoodles.com.
Pretty pretty Princess!