Delilah's Giant Schnoodles – 9 puppies, 6 boys and 3 girls born 6/7/12. All of these wonderfully snuggable pups are $1,250/each. Apply for one today!
Moses: This gorgeous fella is calm and a true sweetie!  He has white on his rear left foot and a white blaze.  A real love! This is tan collar. Male, wonderful sweet, docile personality.  He did exceptional for his bath and trim, even the hair dryer.  A real sweetie!
Toto Legge: Toto Legge went home with a NC family!  He joins the family of 3 kids and a big brother named Ike, a golden doodle.  He will love the personal attention he will get from this family and his new buddy too!  They love to go to the beach and be outside with the dogs.
Rushing Puppy: The runt male giant went home tonight!  He is the newest member of the Rushing family.  They are very excited to be getting a giant schnoodle.  They have 2 adult mini schnauzers so they will wonder what this big black thing is they brought home!  But they will all be friends in no time. The family loves to jog, tennis and swimming so he will join in the activity.
They live in NC.
Zooey Simone:  To the Simone family in Canada.  This will be our first Pierce Schnoodle outside of the border!  Her name is Zoe and they live on the lake and with lots of parks and grass close by this little girl will love the outside fun.  There is another giant schnoodle in the family named Ziggy.  Zoe will love to play when they visit!  She will enjoy the cold and the snow and love to play outside with her new family!
Sarah Simone: The parents who adopted Zooey Simone came along on the trip and fell in love with Sarah (not hard – she is awesome!) and decided to take her home as their own giant schnoodle.  She will join the family with another giant schnoodle so she will love that – a new lifetime playmate! Also, from Canada the pups will love the cool and snow!
Sandri Family!: This beautiful female pup was adopted today to the Sandri family of NC. They have 2 boys that are over the top excited about the new puppy – as one said – 'She is perfect'. The pup, Sally will not be alone much and will join in all the activities of the household and enjoy the play time in the back yard.
Jack Turner: New family: Turner family of NC. His name is Jack. With 3 kids at home this guy will get alot of love and attention. The family loves all kinds of sports and boating so Jack will love the activity and also resting watching movies at home!
Moose Lord: This guy is awesome!  The largest of the litter with big feet to grow into.  He is very curly, mostly black. He curls his feet around your hands and arms when you pick him up.  Calm, confident – wonderful boy! We have to call this guy Moose!  He is a hunk of super sweet schnoodle!  He is the largest male, has a small white blaze that sets off his black and is so so gentle. A real love!
Elijah Waring: This is Elijah (Male #1) – named after his Dad.  He is pick of the litter of the boys and was adopted by the Waring family.  He has a gorgeous white blaze and feet (marked like pick of the litter female) and is very sweet.
Growing up!
9/3/2012 – Giant schnoodles schnoozig after their baths!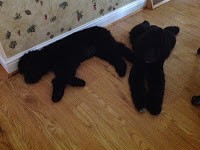 8/10/2012 – Bill with the handsome giants!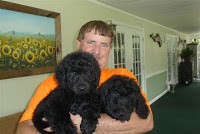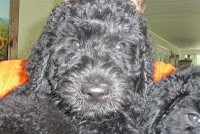 7/12/2012 – Bath Time! My girlfriend Stephanie helped me get through the first bath for the giant schnoodle pups!  With 9 I needed help:) They were all good and enjoyed getting cooled off and cleaned up.  The pups are so loving and sweet.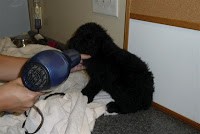 7/8/2012 – Renee in the whelping box.
7/1/2012 – Started with mush early as the pups seemed hungry.  They were quite interested and then the food made a great bed too!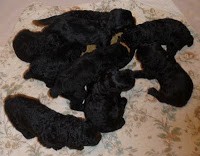 6/21/2012 Two weeks old…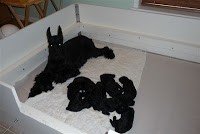 6/14/2012 One week old pups…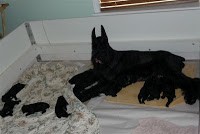 Delilah being a good mommy…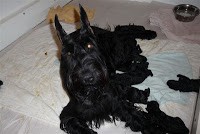 This is Eli. He is the dad of Delilah's litter. He is registered AKC cream colored standard poodle. He has awesome curl and was very loving and sweet to us and he really liked Delilah. He was a real joy to be around and very well mannered and handsome. This is easy to see in the litter he produced with her.