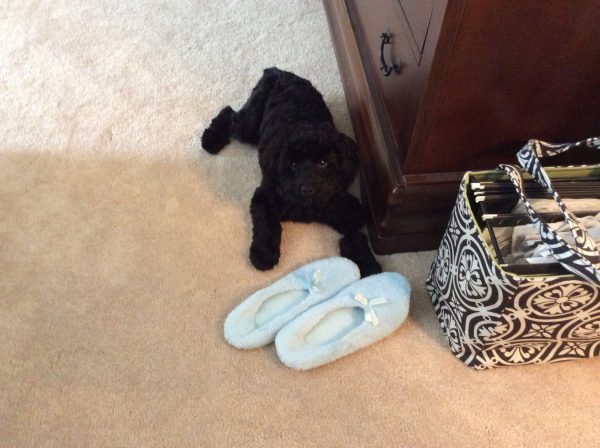 I feel so guilty for not sending you a huge "thank you", updated photos and/or info on Hokie before now and I apologize! We couldn't possibly love this guy any more. The kids race inside from school everyday and drop to the floor to collect wet kisses and ear cleanings from him. He enjoys going to bed in any one of their three rooms but always finds his way back to Mommy before she retires for the night so that he can snuggle up to her.
He was neutered and micro-chipped the last week of April and did great. He enjoys protecting his turf in the fenced back yard while chasing birds and squirrels and barking at passing people, dogs and kitties! He is so smart, fully house trained since February, ringing the bells in the door whenever he needs out.
He is calm for a puppy so I have been told. We definitely couldn't have asked for a better dog and we think we are so lucky to have him as part of our family! I told my husband I wanted to get a pal for him, maybe an all caramel colored schnoodle next time, so if you have any of those coming in the future, let me know.
Thanks again for Hokie!!!!
Molly