March 2023 – Gracelyn is going to her forever home in GA. She will be living with one of her daughters and another Giant Pierce Schnoodle. She will have the best life. Lots of fun and love!
Gracelyn has been spayed and dental cleaning completed. She is recovering very well and enjoying all the spoiling! She will be ready for her forever home in a few weeks. Email Renee directly if you're interested!
January 2023 – Gracelyn will be retired when her babies go home. She will be spayed and a dental completed and current on all shots. She is a great, sweet girl. Protective of her home and family but never aggressive. If interested email Renee directly!
December 2022 – Gracelyn in her box and playpen, resting and waiting for babies. Due date 12/17 but no sign yet!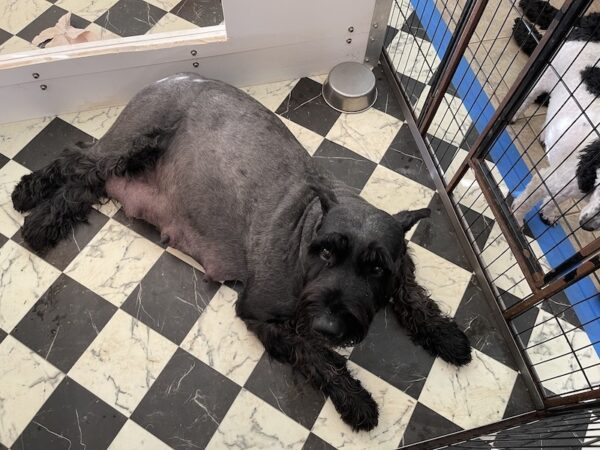 Enjoying time with mom in bed. Renee is recovering from knee replacement so Gracelyn is hanging with her.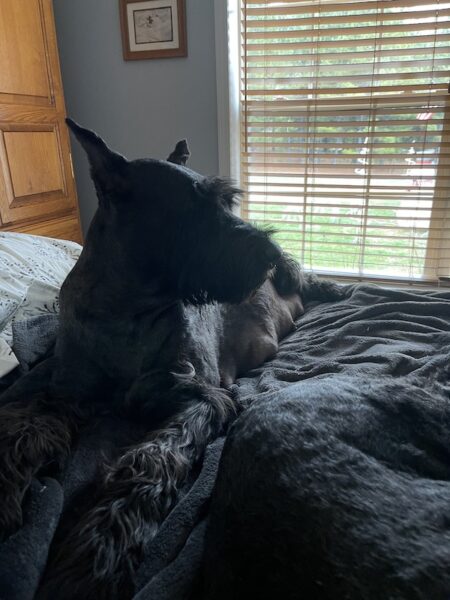 March 2022 – Gracelyn resting
This is Gracelyn our newest giant schnauzer baby!!! She is solid black and just exceptional breeding and personality. She is very sweet, typical puppy but oh so smart!! Renee is starting puppy class with her soon. She was born 4/15/2018 and will make an excellent giant schnoodle mom in 2019. She heritage is of Russian champions. She is just awesome. We love her already. She will be 85-95 full grown and will be an excellent giant schnoodle mom with Moses as dad! We are looking forward to her babies.