February 2018 – Sophia retired to the McLaurin family in NC in October 2017. They are retired and give alot of time, attention and love to Ms. Sophia. Of course, she loves it and they say she is such a joy to them and everything they could want in a doggie. This is a recent pic of her after getting a 'beautified' at the salon.
December 2017 – Enjoying her new fancy bed and preparing for her new retirement home.
September 2016
January 2015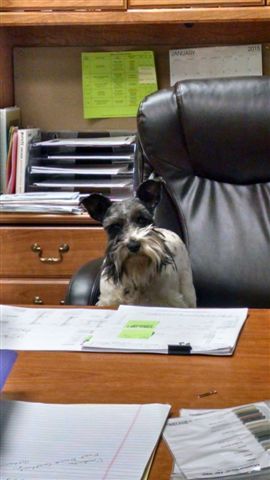 November 2013
Sophia!  She is a AKC registered pure-parti schnauzer.  Born in January 2013.  She came out of sunny Florida as a birthday gift for Renee in 2013.  Ms. Sophia is totally remarkable and is always showing her spots off and when she is freshly groomed it is amazing her markings.  We kept the ears natural and she has great ear control and great ears to hear with!  She cocks her head when you talk to her.  She is a real love!
She will breed with Tuxedo the Pierce Schnoodle parti – poodle for a litter of pure-parti schnoodles in 2014!  These colored pups are very popular so if you are interested – make plans to get on the approved list for one of these beauties!!