All of Tabitha's puppies have been sold, thank you!
Green Collar of Tabitha's litter who we named Sophie went to her forever home with the Stiedle family of VA. They are going to keep her name and she knows it already! Recently retired she will get lots of love, training and attention. Hiking the parks and mountains and walks – Sophie will
love her new life!
This is the small male pup we call him Hercules! He is small in stature but has an awesome personality and is so sweet. He has been babied since born since he was small and is growing great. He was adopted by the Baird family in WA.
This is purple collar female. She is the smallest of the 3 girls but still in the medium size. She is loving, social sweet girl! She went home with the Giannetto family in RI and her name is Rosie.
Navy Blue Collar has gone to this forever home with the Kupiszewski family in FL, his name is Barney. He will enjoy getting lots of attention. Running at the beach and relaxing in parks, reading and writing, this guy will be chillin' with the family.
Light blue collar with new family. The DeYoung family in Florida. He is the new baby!!! With no other pets and kids out of the house, he will be the new baby! His name is St. Pepper! The family loves to walk, swim and boat. This guy will hang with them all and blend right in!
Orange Collar – She will be going to the Jarnagin family in IN. Her name is Katmai. The family has a 4 YO schnoodle who needs a playmate. This girl fits the bill for that! She is loving, sweet, outgoing, super smart and will make a great buddy! The family loves to hike and cuddle! 2 giant schnoodles – what better to snuggle with?!!
Red Collar of Tabitha's pups is named Lou. He has gone to his forever home with the Kern family in NC. 'Lou' is a laid back puppy so will adjust to this active family and get all kinds of love and attention. He will have mom to himself all day but will await the kids coming home from school. The family loves movies, art, music, running and soccer, so he will check out all the activities as he grows!
Pink Collar (with her tail!) is name Abigail (Abby) and has gone home with the Cangelose family in NC. It is their 'first baby' so she will be spoiled and loved and very well taken care of! The family loves to play in the backyard, walking around town and lots of cuddling. This puppy will love all that!
Renee in the playpen trimming toe nails and loving on the babies.
The Boys
The Girls
Tabitha & Babies
December 18, 2018 – Tabitha gave birth to a beautiful litter of black giant schnoodles babies this morning! (Actually her and Mama Renee were up all night!) All are resting well now.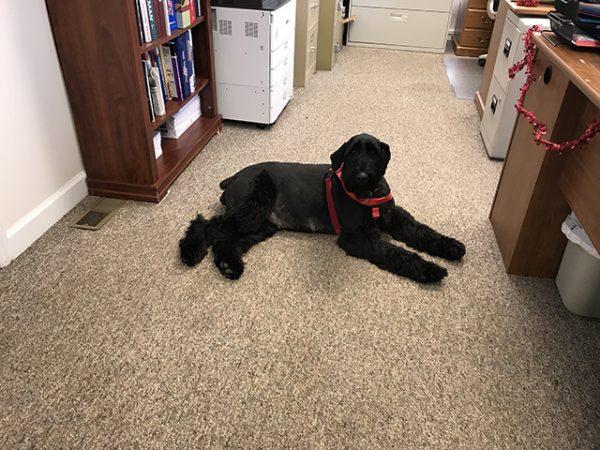 Tabitha went into the office with Renee this week. She is in her whelping box and getting ready for babies. She already has milk to feed her little ones! Due date 12/21! Renee will be home all the time at the holidays to take care of newborns.
Tabitha and Moses bred for giant schnoodles and the due date of the babies is December 21, 2018. Christmas babies! This is Tabitha's first litter. All pups will be black. We are curious to see how Tabitha does as a new mom. Taking applications and deposits on this litter now.
Pups will be ready middle of February – Valentine Puppies!