September 2023 Update:
Moses and Baer have become quite a pair.  Love chasing squirrels together, walking on trails, checking out the creek.Those 2 seem to have an understanding with  each other, no jealousy, Baer doesn't over "annoy" and they have so many similar demeanors and traits.   Doing super great and we love it.  Moss is so affectionate and a great snuggler.  We all love getting his affectionate "nibbles"!!  We have gotten 2 horses recently and Moses is a great "barn dog".  He just hangs out with Landis and follows her wherever she goes.  We get a double great welcome when we get home from Baer and Moses.  While Moses is totally Landis's dog, he's still very affectionate with all of us.  Loves going to Lowes hardware and getting "pup cups" from Starbucks.  He sleeps with Landis every night on her bed. – The Huckabee Family
It was so hard to rehome Moses but he is in a great home with lots of love, room to roam, a pond and creek for these hot days! His son Bear is his new buddy. He just follows Moses everywhere. The Huckabee family is a great retirement home for him. They totally love Bear and were very excited to get his Dad, Moses.
July 2023 – Moses came to work today with Renee as his last full day with us. Renee is already missing him but his new family is great. He is resting up for his new adventure for his next phase of life. We love our Moses!!
June 2023 – Moses is being retired! He is neutered, had a dental completed and is current on all shots. He weighs 93 lbs and is just a gentle love. He is looking for a great, loving forever home. Large fenced yard desired. He loves to romp around and smell those great smells. Prefer to be an only dog but will consider other options. He is housebroken, crate trained, leash trained and loves to go with his humans. He is not a jumper (a very good thing) and he also does not jump up in a tall vehicle. He has a gentle, loving soul and we are looking for a great home for him. Inquire directly with Renee with any questions and details.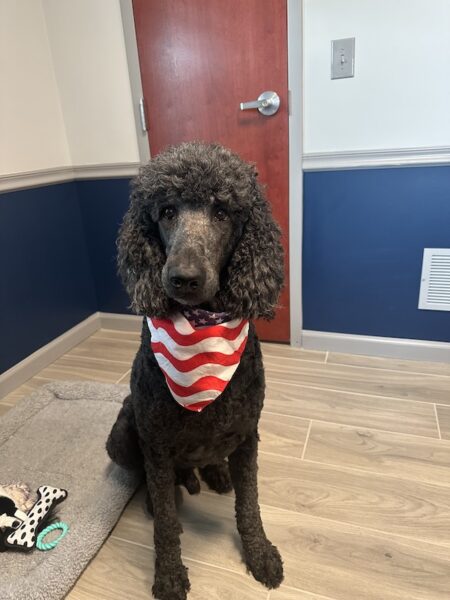 October 2020 – He is SO HANDSOME and sweet! We love our big guy.
July 2020 – Our so very handsome Moses enjoying time with mom in the office. He is such an awesome boy!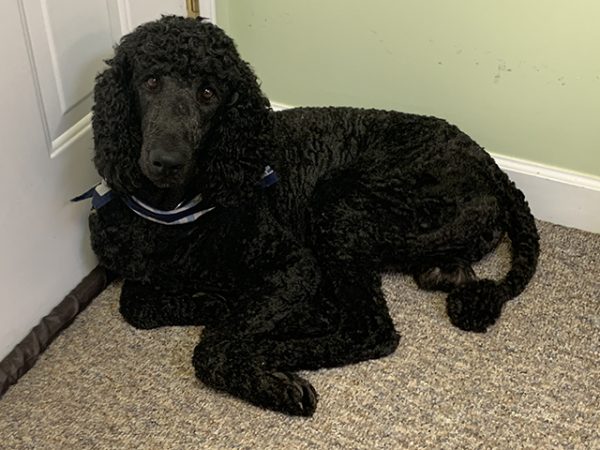 March 2020 – The man of the hour, s️uch a handsome boy!
September 2018 – Moses my boy!
September 2018 – Moses, Hannah & Tabitha running in the front yard!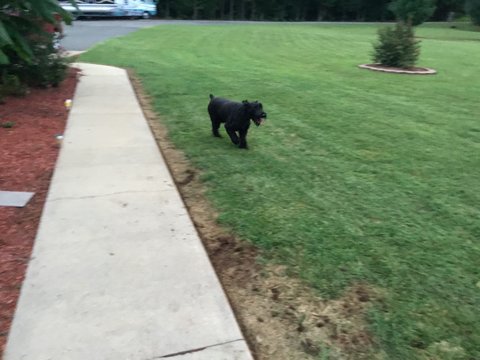 February 2018
Moses is an awesome black standard poodle with a great outgoing personality and is super playful and loving. He will sire great babies. He has a great flag on his tail which he loves to show off and wag.