July 2019 – Jolie retired earlier this year to the Tublitz family who is now adding a new schnoodle pup to the family.  They brought Jolie along for the trip and Bill got to love on her.
January 2019 – Our beautiful Jolie has retired and is with her new family and being very spoiled! She is traveling and has lots of cushy beds and sweaters and coats. Really living the retirement life with the Tablitz family in FL. We miss her but she is in a super home and so loved. With her 2 daughters with us we will carry her super coated line.
February 2018 – Jolie hanging out in our bed, staying warm this winter under the soft blankets.
Ms. Jolie with a short end of the summer cut. Her coat/fur is so thick and Awesome! She is our doll puppy!
Jolie got a summer trim and posed for the camera. Her most recent litter of pups have now adopted so she is enjoying herself and the summer!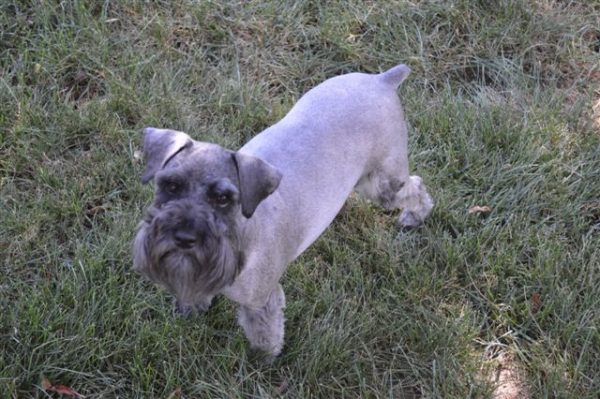 February 2015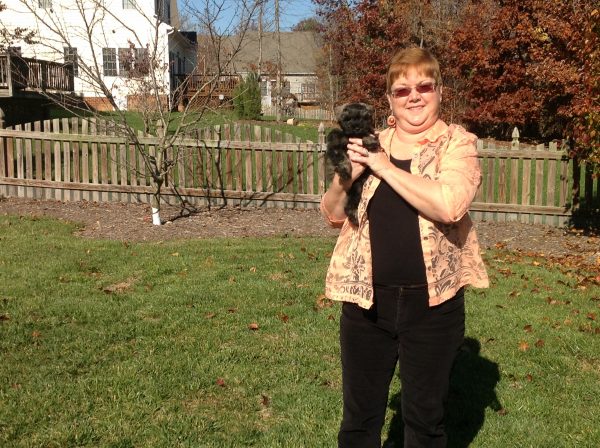 Ms. Jolie Beignet from Louisiana!
She is one of the sweetest mini-schnauzers Renee has ever had. She had her own little personality, acts like a helpless baby, then stubborn and then totally loving! Such a sweet, sweet girl. Jolie was born 9/13/12. She will produce wonderful babies. She will have her first litter in 2014. She is very loving and likes to watch Sampson and Delilah play – wants to play too, but they are so big. She is a great referee! She is a registered salt and pepper but her fur is dark black/brown with great shades of tan and silver. She has the sweetest face.
Join us in welcoming her to the Pierce Schnoodle family!