September 2017 freshly groomed Sam.
May 2016 new summer cut!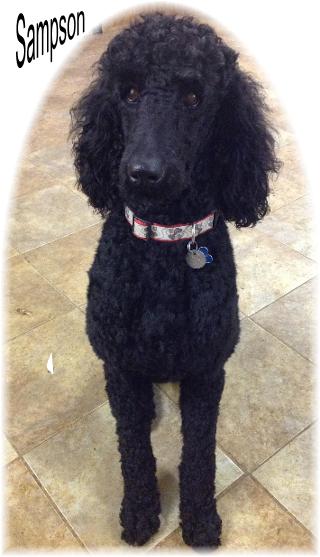 Sampson is a CKC registered standard poodle.  He is solid black and at 18 months is is 60 lbs.  He has great energy, can eat as much as he wants and never gains a pound.  Very lean and agile.  Loves to run, run run and play ball, go to the lake and fetch anything out of the water, go to the office, get in the truck with Bill or Renee and go!  He is always sitting on ready!
He fathered his first litter of giant schnoodles in March of 2013.  The pups were remarkable, very smart and Sampson loved them all.  His favorite thing is for them to chase them around the yard – they will never catch him though! Dad is always faster!!
Sampson is totally loving.  His favorite thing is to have his ears scratched and petted.  He will lean into you and stand basically an unlimited time while you massage his ears.  He is calm, docile, very smart and just a big hearted big boy.  Everyone who meets him is just amazed at how calm he is for a standard poodle.
2/14/14 – We think Sampson is one of the most handsome standard poodles.  They just don't get any better in personality and looks.  Here he is for his Valentine's 2014 photo shoot.  Gosh – so very handsome!!
10/6/2012 – We took Sampson and Elijah to the beach in the motor home. They are checking out the neighbors. Everyone thought both pups were just gorgeous! Sampson loved the ocean and kept jumping the waves. Elijah thought he liked it then backed up every time! Very funny. The 2nd day he liked is more. Loved moving the sand to find a cooler spot. Such a fun time!
Sampson goes boating at the lake 9/28/2012.
Sampson has grown into a great 'young man' pup! At 6 months, 51 lbs he is full of gentle love, loves to play with Delilah and the pups and is aweful fond of 'mom renee and pop Bill'. He is so gentle, so very smart. Very remarkable!
Meet Sampson!
This is Sampson a new addition to Pierce Schnoodles! He is a standard poodle and a future stud for giant schnoodles. (Sampson & Delilah). He is 10 weeks old – full of energy and lots of love. He has massive tight curl and is a real doll! He is 24 lbs and growing fast but still thinks he is a baby:)
He is house broken, very, very smart. He is crate trained, sits for treats and his food every time. Is learning to walk on the leash and loves water – can't wait to take him to the lake. Watch his grow with us! He will father awesome giant schnoodle pups in the future!